Solver group of applications for Retail
Solver AI Suite for Retail
FIND OUT HOW TO...
Boost Retail Net Margin by Double Digits.
Boost conversion rate
Improve your cross-selling conversion rates at store level.
Skyrocket your store sale
Upgrade your cashier from the service line to a salesperson.
Increase your NET margin
Establish a real-time recommendation system..
Solver AI Suite Apps for Retail
Find out how Solver AI Suite Apps for Retail can boost your sale and make you close more deals than ever.
Solver Personalizer
If you are looking for a solution that would multiple your sales numbers this year, look no more.
The Solver AI Personalizer is our top selling module that our customers just love.
In just a couple of clicks, this solution enables you to segment your customers in a way that will let you know their behavior better than they know it.
By implementing this solution you will be in a position to increase your sales in the most efficient way and to optimize your customer buying habits.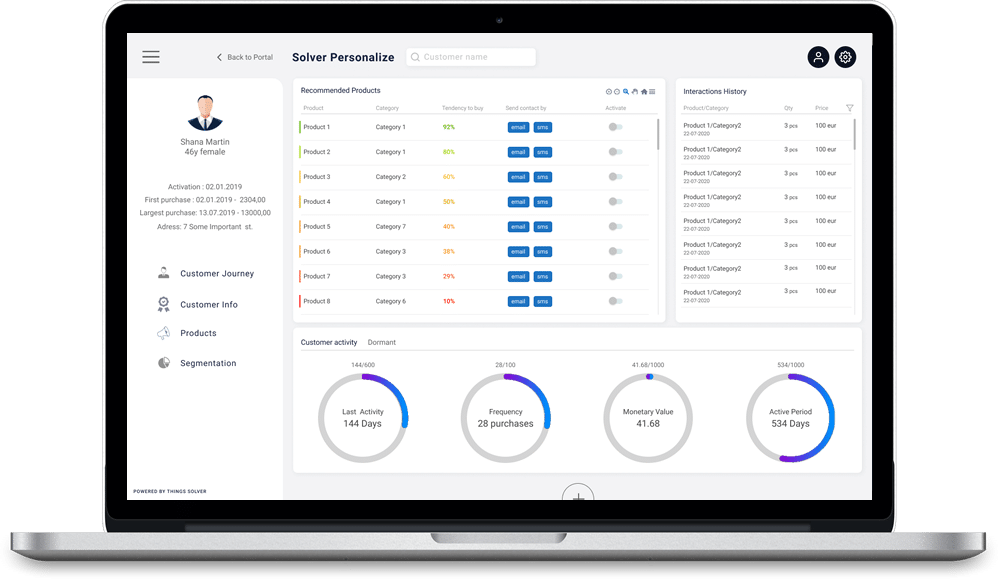 Solver Smart Segmentation
Solver Smart Segmentation is an application that Retail CxOs love the most.
CMOs and CSOs, we're looking at you! The Solver AI Suite enables you to segment all of your customers in a way that will allow you to learn about their behavior and predict their actions.
If you are looking to upsell and cross-sell more to your existing customers, you will love our Solver Smart Segmentation tool.
It enables you to segment the customers who are most likely to buy more from you… and it can tell you exactly what to offer them.
Solver Virtual Buyer
You don't have to know your customers by their names to recognize their buying preferences.
Solver Virtual Buyer predicts customer needs based on the content of their cart and predefined customer profiles created by an algorithm using historical transactional data.
This need is identified the moment the customer is paying at the cash desk.
The cash register issues this recommendation as a voucher with a receipt which the customer could use in the next purchase.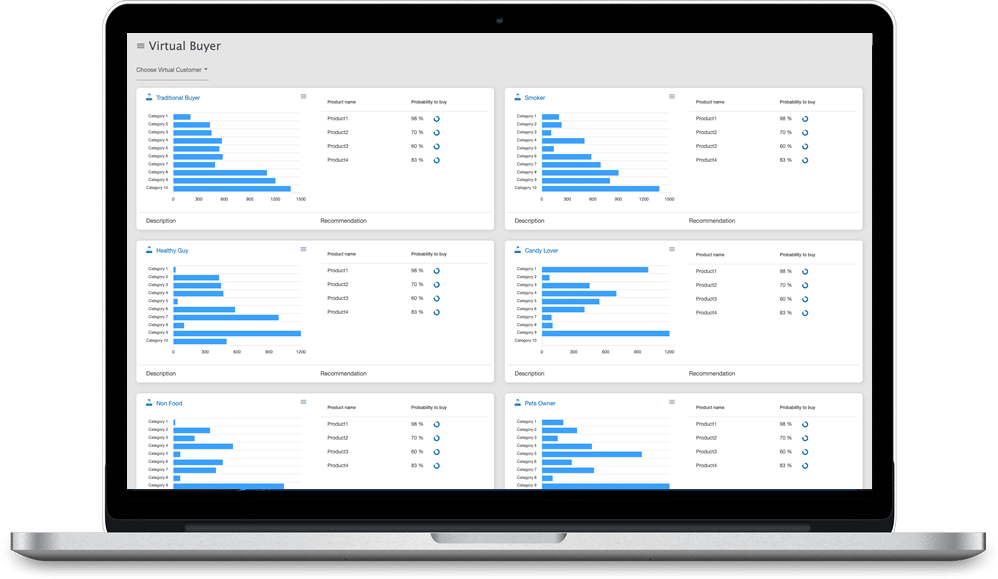 Solver Product Analytics
With Solver AI Product Analytics you will be able to properly segment your products and create a system that will facilitate product recommendation.
Why is this important?
Besides giving you a complete product overview, this solution enables you to sell products that your customers will love - even before they know it.
Imagine a situation where you are not sure if a product will be a good fit for your target audience and you do not know if you should jump at the opportunity or not.
With Solver Product Analytics your decisions will be data-driven with the highest possible prediction of business outcome.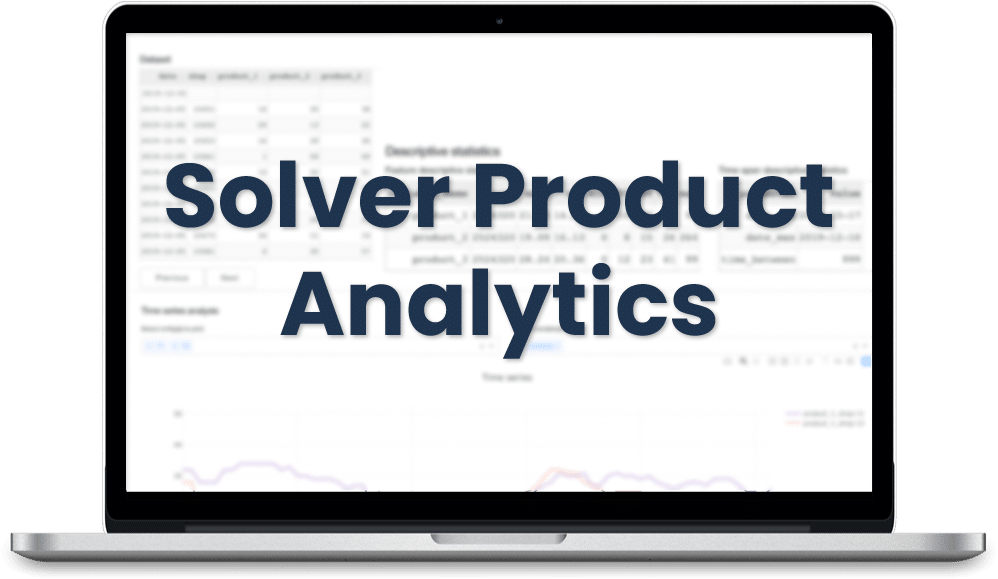 Solver Forecast Studio
Always be one step ahead. The machine-learning based forecast can help you get projections of sales, demand, or operational performances.
Optimize costs, boost marketing campaigns and upgrade strategic decision-making processes by taking into account forecasts of key performance measurements.
Product segmentation can be a powerful asset used for smart assortment planning and optimization. Based on their popularity and demand, this module can determine different segments of products, like the bad-seller, essential, seasonal and cash cow products.
Make sure you offer products your customers really need at each point in time, in order to ensure stability and growth.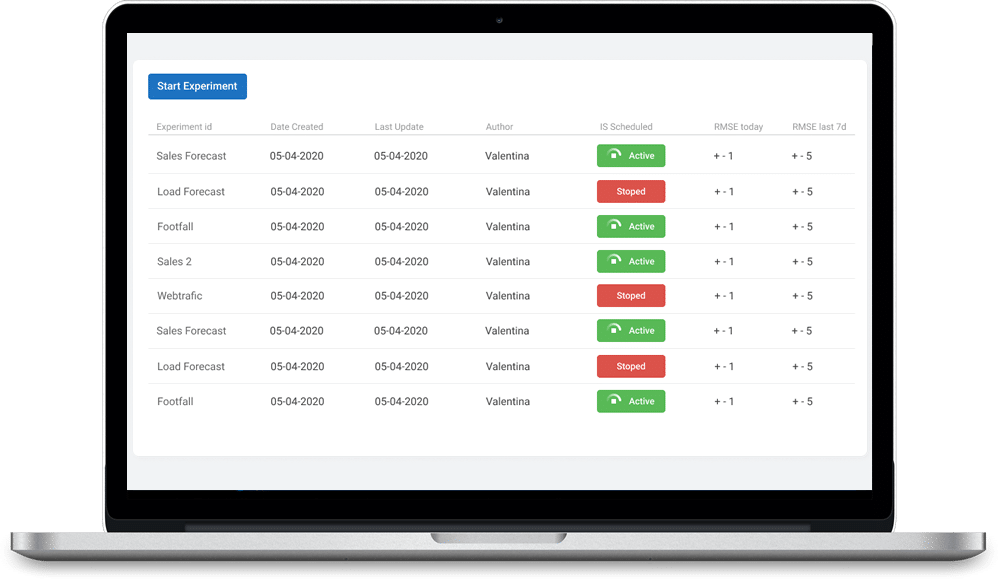 Solver Anomaly Detection
Solver Anomaly Detection is a solution that enables you to predict any kind of fraud or anomalies in your system and processes.
Especially useful for banking and insurance, this solution gives you the power and the know-how to diagnose and detect fraud even before it happens.
Don't forget - the past is something we cannot change, but with Solver Anomaly Detection we can predict our future and avoid hidden traps.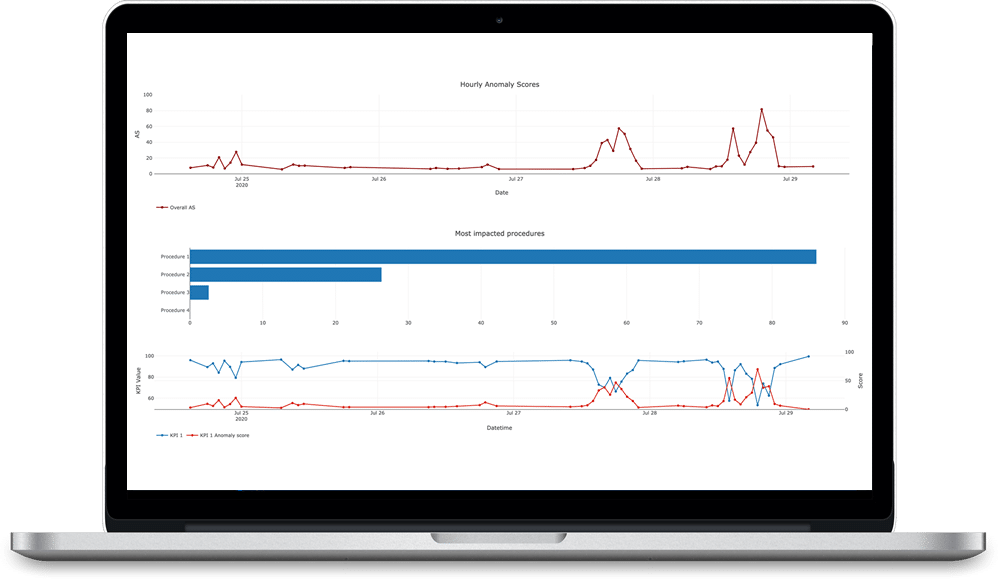 Solver Power Leads
If you are an insurance company or a bank looking for new hot leads then the Solver AI Power Leads is the tool for you. It enables you to segment your leads so that you know how to treat them properly and to squeeze the sales process to the maximum.
Why is this important for anyone?
By squeezing the sales process, you will save time - and money - by closing opportunities faster, which will increase your cash flow.
P.S. This tool is something we are still working on and the full version will be available this year, so stay tuned!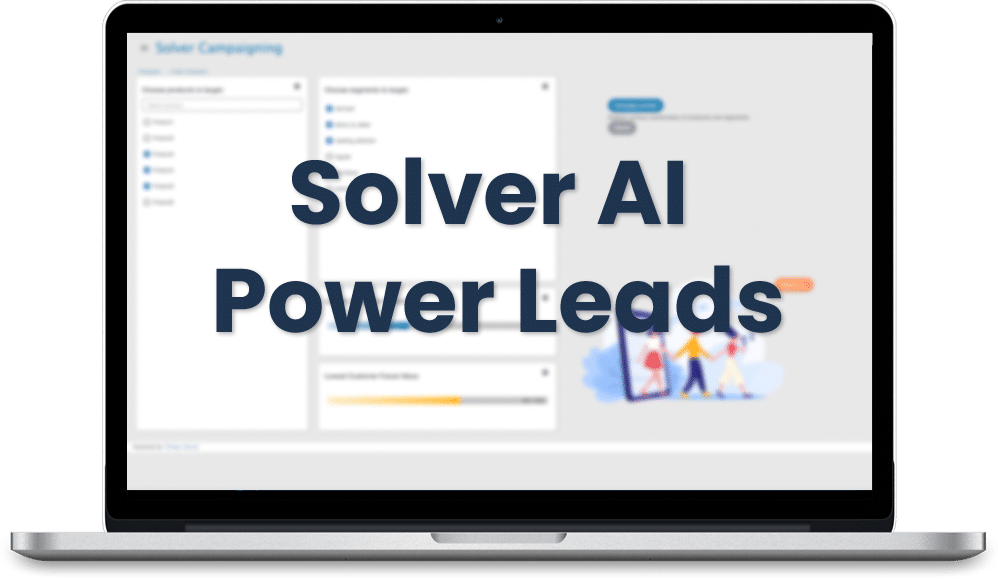 Solver Process Miner
Having hundreds or thousands of employees and a couple of thousands of processes will create a huge opportunity for optimization.
The question is: where to start?
Solve Process Miner is a solution that would enable you to find broken processes and develop a plan on how to optimize business in most efficient way that would lead you to a higher profit margin.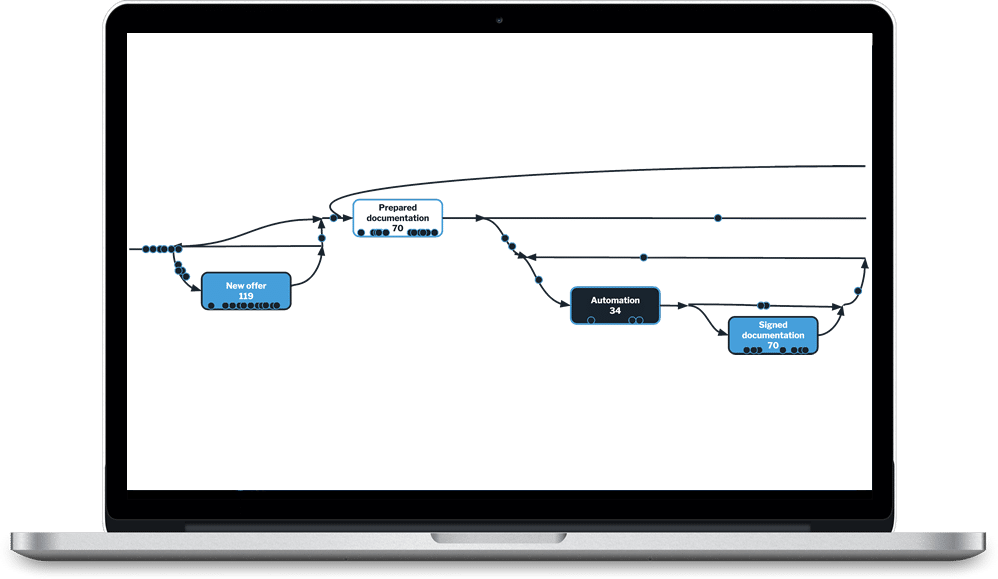 Solver Campaining
Solver Campaigning is a separate product that can be used either as a stand-alone application for your marketing department or as an add-on to your already implemented marketing tools.
This is a powerful tool for CMOs and marketing professionals who want to personalize marketing campaigns, messages, and offers in the most efficient way and produce significant ROI for the retail business, both offline and online.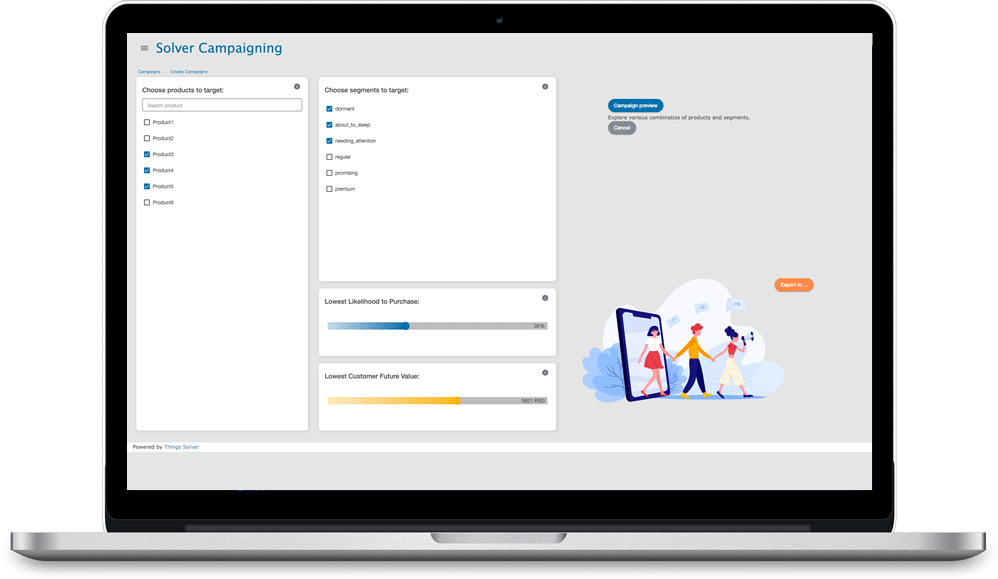 One more thing
Solver AI Studio
Solver AI Studio is a self-service module that can be implemented separately from Solver AI Suite as an add-on to your own solutions or as a separate product that helps companies enhance their internal processes.
Whether you are using some other solutions for analytics, reporting, or BI, our Solver AI Studi API center is the perfect solution for companies that are using other 3rd party solutions for an internal process such as reporting, forecasting, etc. and would like to integrate AI models on top of
that.. Solver AI APIs can support your every need for integration and will enable you to integrate all solutions into one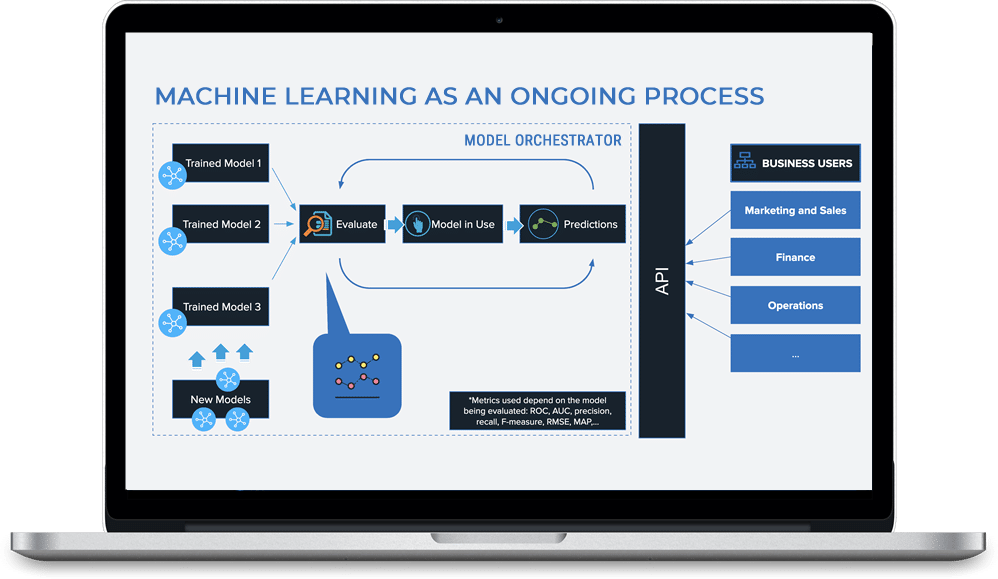 Learn more about
Solver AI Suite features
in this product tour.