Lately we've been hearing different kinds of buzzwords all the time – 'deep learning', 'neural networks', 'computer vision', 'artificial intelligence'… But the explanation of each one of them is actually not so simple. Still, it's not hard to understand the main concepts of them in order to use it in some real-world applications. One of the real-world applications that incorporates mentioned concepts is Visual Search. In this blog post, we will try to explain what Visual Search is, why and when we should use it.
What is Visual Search?
Visual Search is extremely interesting because of its implementation in business and different industries. It enables using images for searching instead of text. Humans are visual beings – 90% of information transmitted to the human brain is visual. So, having the possibility of exploring the online offer with just an image can be something that now will make a difference between retailers, but in the not so distant future, it could be the default feature of every eCommerce website. 
Visual Search != Image Search
Both are connected with images, but the main difference is that in Image Search users use textual words for searching images and in Visual Search they use images for the same thing.
Why should we use it?
It seems that this is something that will be required for any eCommerce platform in the near future, especially for fashion and furniture retailers. Statistics show that 62% of millennials want visual search over any other new technology. And why is that? Because Visual Search makes searching for desirable products much simpler: users can simply take a photo of a desired item, use it to inform their search and generate an immediate result of all the similar products currently available. It is perfect for shoppers who face two common dilemmas: "I don't know what I want, but I'll know it when I see it" and "I know what I want, but I don't know what it's called"- as people from Amazon say.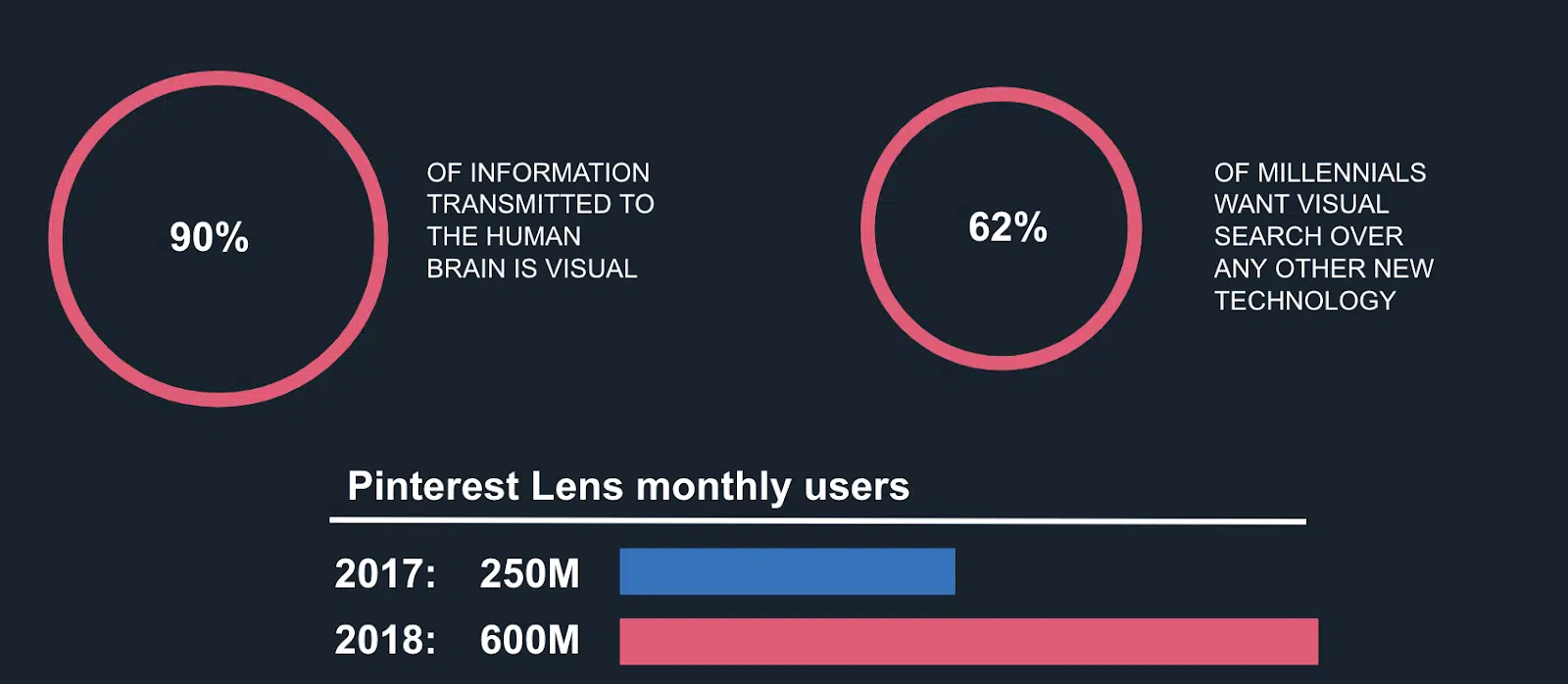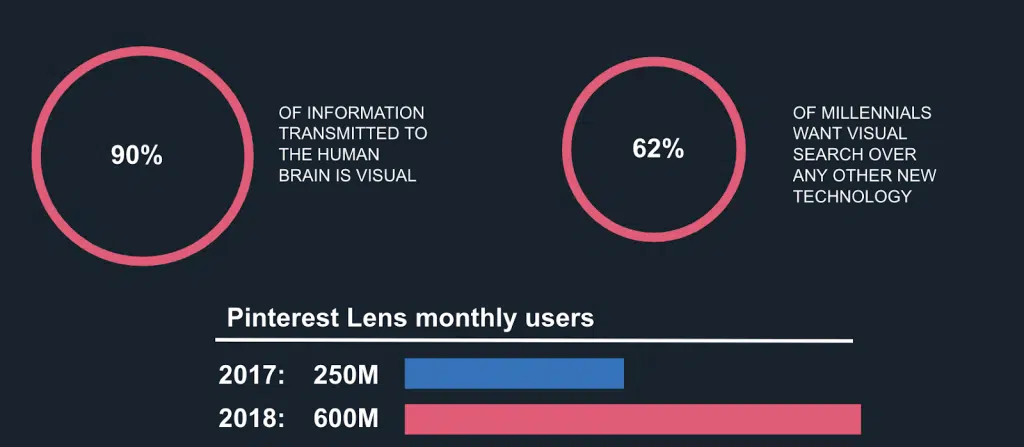 Use cases in eCommerce
Many online retailers are already using Visual Search as one of the features on their platforms. Even though they are not retailers, Google and Pinterest are leaders in this field. They have developed interesting and accurate Visual Search tools and they are inspiration to others that are trying to implement something similar. 
Pinterest
On Pinterest, you can upload a picture of your outfit and get the pictures with similar outfits with their Pinterest Lens tool.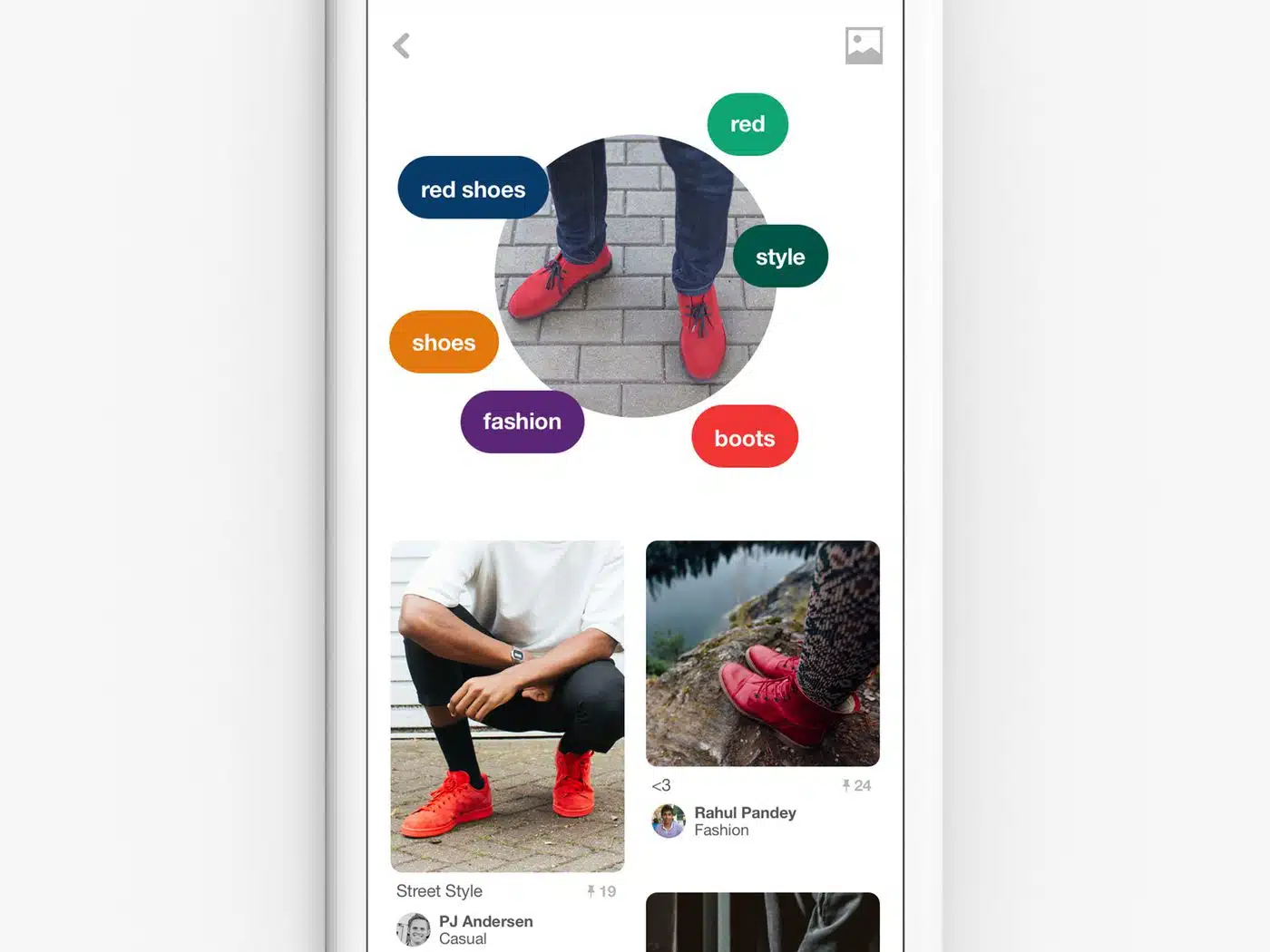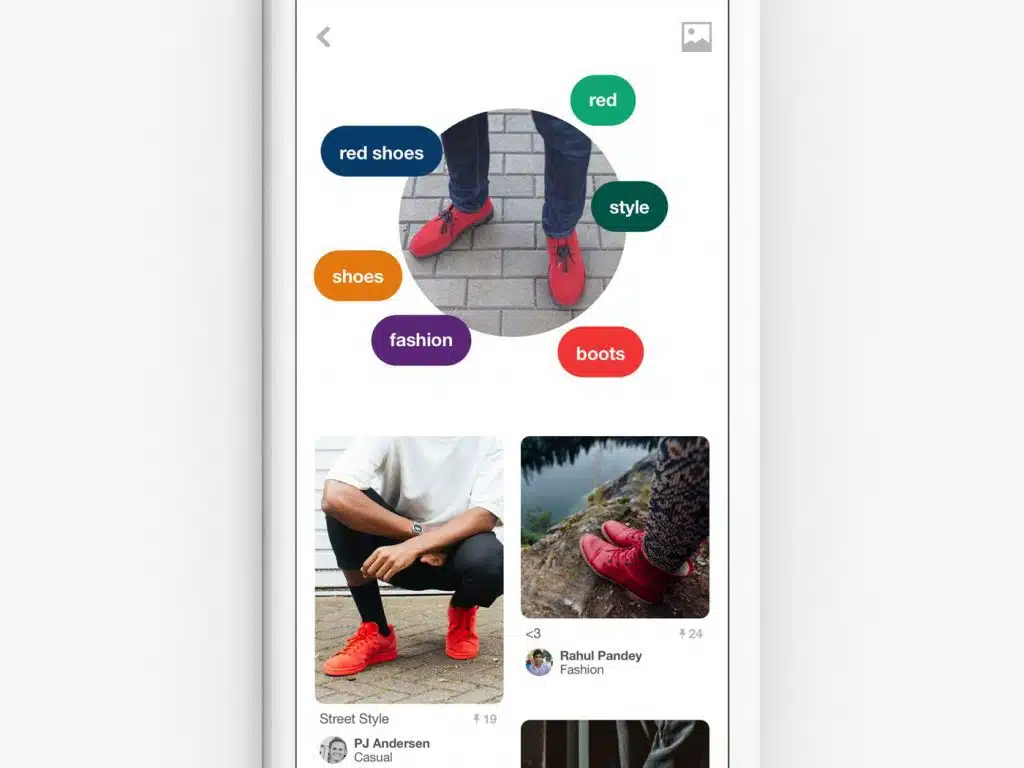 Also, they have improved their Visual Search tool with Shop the look feature. With just one tap, you can buy items from the picture. They went even further by adding Complete the look possibility which is actually a recommender of complementary products. All this combined could be an online shopping assistant, which is undoubtedly useful for those retailers with a wide range of products.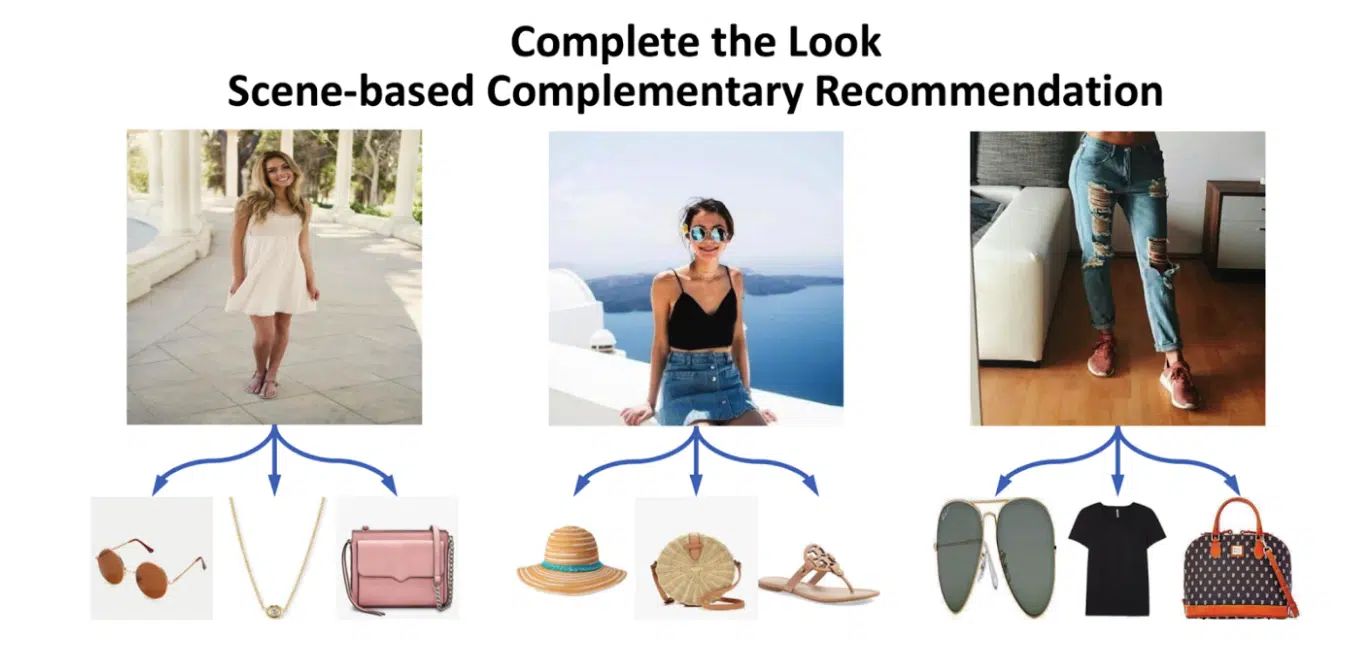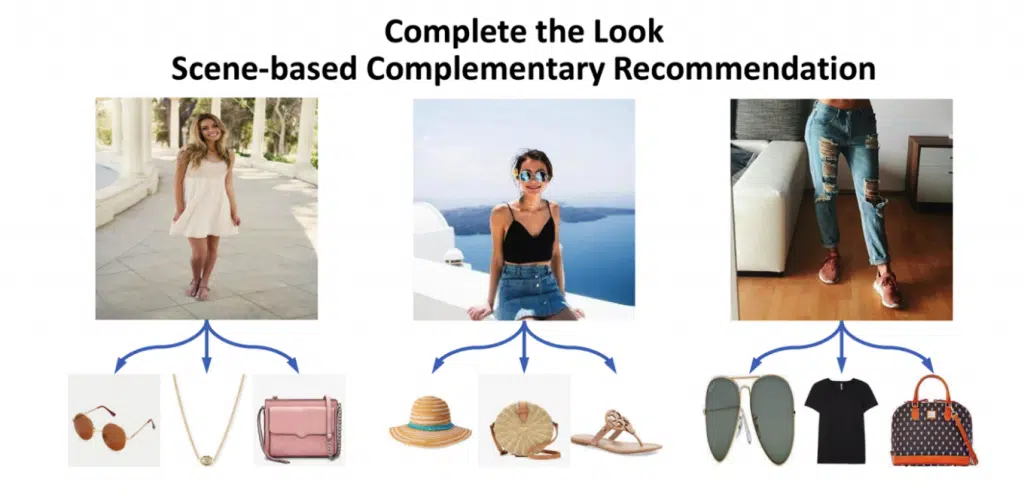 Google
Google and its Google Lens tool are game changers in the Visual Search field. Some of Google Lens main features are:

Amazon
Another big player has developed a Visual Search tool – StyleSnap. With this tool you can easily replicate the look from the picture that you have uploaded. This could be done on web app or mobile app.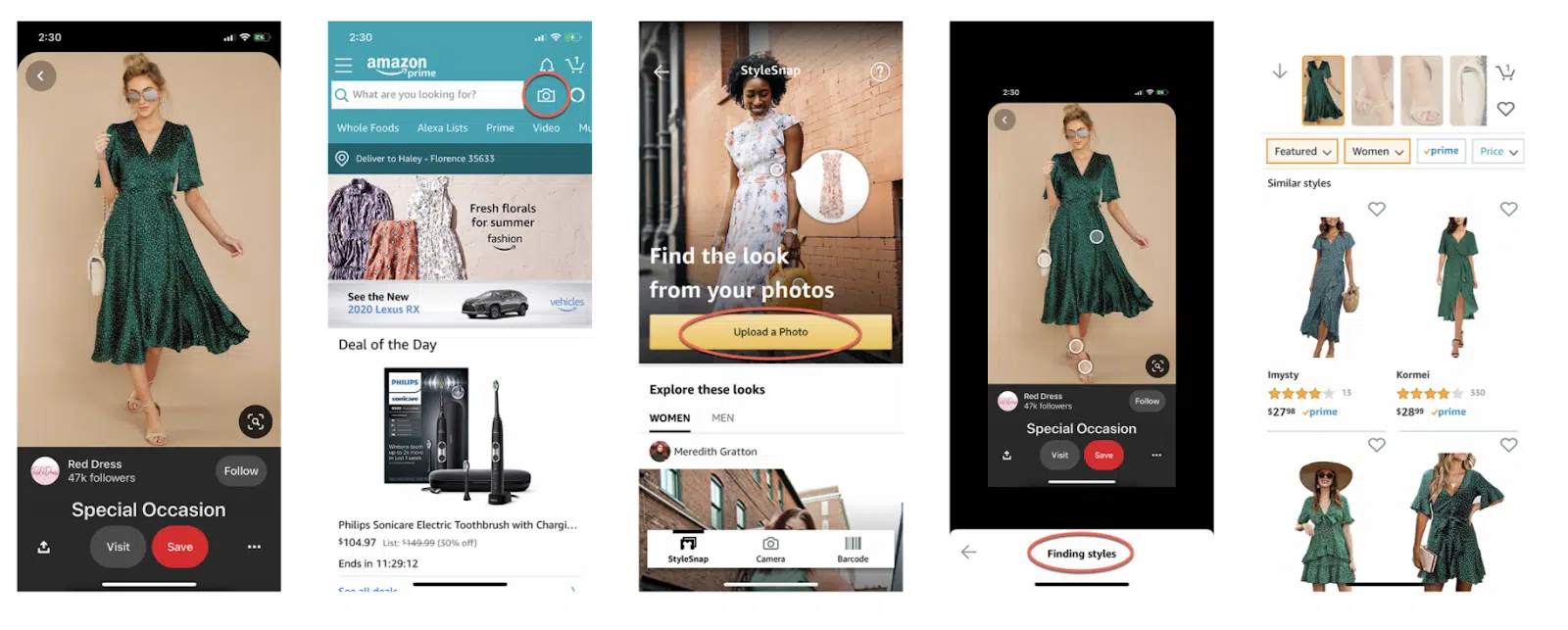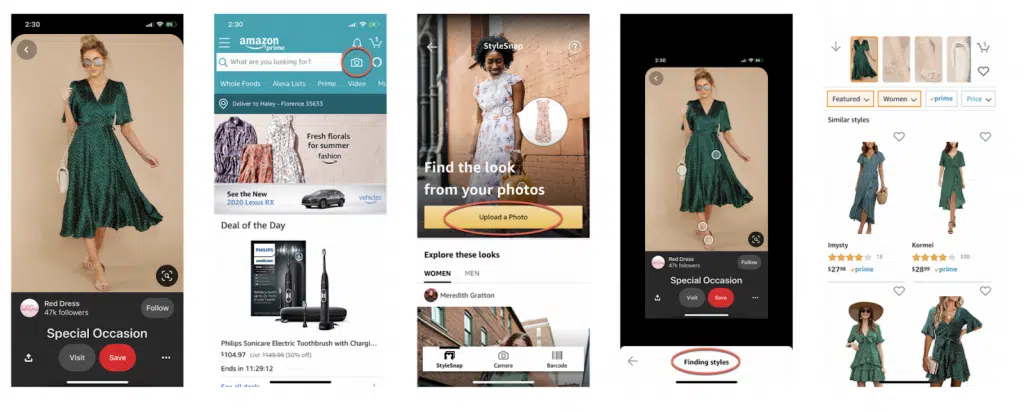 Amazon also has a collaboration with Snapchat – a tool which enables Snapchat users to take a photo of some product and buy it on Amazon.
Other retailers
Many other retailers followed Pinterest, Google and Amazon with their own solutions for Visual Search: eBay within its app has a feature for searching with an image, Forever 21 developed a feature called Discover Your Style, which increased their conversion rates significantly, IKEA also has a tool for searching a furniture with an image to make online shopping easier. Those are just several most interesting examples, but even lesser known retailers recognize Visual Search as one of the keys which can differentiate them from the competition.
If you want to know more about Visual Search, how it actually works and how it can be implemented, stay tuned, because we've got more of this coming! 🙂